Link to article: https://arizonavarsity.rivals.com/news/arizonavarsity-breakdown-chaparral-36-hamilton-33-ot-
ArizonaVarsity Breakdown: Chaparral 36, Hamilton 33 (OT)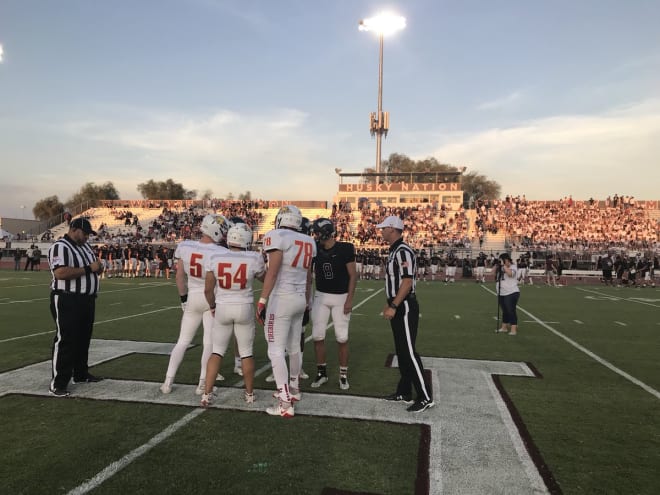 Cody Cameron / Staff
This past Friday night I made the drive out to Hamilton High School to watch the Firebirds of Chaparral take on the Hamilton Huskies in a big-time week 1 matchup. Three and a half hours after kick-off, I left the stadium wondering to myself if I had just watched the potential game of the year. On a 3rd and goal play from the 10 yard line, Down 33 - 30 in overtime, Chaparral Junior quarterback
Jack Miller took the snap and threw a dart to Senior wide receiver Marcus Norvell on a fade route in the back corner of the end zone for the game-winning touchdown. The Firebirds' players and coaches rushed the field as Chaparral, the 6A newcomers, celebrated their 36 - 33 overtime victory over the Hamilton Huskies.
Standout Players
2020 Chaparral QB Jack Miller (6'4, 205)
Fundamentally, this was the best game I've ever seen Jack Miller play. Miller was under constant pressure as the Huskies were blitzing linebackers up the A and B gaps consistently. Miller stood in the pocket and threw precision passes all night long while taking some big hits. The Ohio State commit finished the night throwing for 453 yards and 3 touchdown passes. Miller orchestrated the game-tying drive by converting two 4th down passes; one that included a 4th and 30 play where Miller threw a laser to Norvell on a 32 yard back shoulder fade to keep Chaparral's hopes alive. Jack Miller was clutch on Friday night.
2020 Chaparral WR/K Tommy Christakos (6'4, 195)
Tommy Christakos was Jack Miller's go-to target on Friday night. Miller successfully found Christakos for four completions on 3rd and 4th conversions extending the Firebirds' drive. Christakos proved once again why he's a huge red-zone threat, going up high to snag a touchdown pass from Miller on a go-route in the 2nd quarter. Christakos also drilled a 43 yard field-goal late in the 4th quarter to send the game to overtime.
2020 Chaparral CB Kamdan Hightower (6'1, 165)
Kamdan Hightower shined on Friday night. The Junior cornerback had two interceptions including one in the end zone that prevented a Hamilton score. Hightower was fantastic in coverage staying stride-for-stride with some of Hamilton's top receivers.
The Good
Jack Miller has a ton of weapons in his arsenal. Wide receivers Tommy Christakos, Marcus Norvell, and Deavon Crawford are all fantastic receivers who can score at any time. Add 6'0 205 LB Junior RB
Darvon Hubbard, two rushing touchdowns on the night, to that mix and you have yourself one deadly offense. Chaparral has the offensive talent to score on any defense in the 6A. This will be a fun team to watch this year.
The Bad
Replacing a running back like
Jawhar Jordan is no easy task. Jordan combined for over 1900 yards and 28 touchdowns last season for the Huskies. Outside of QB Brandon Schenks rushing yards, Hamilton running backs rushed for a combined 54 yards on 25 carries. The Huskies have talent in the back field. Seniors Mo Parson and Bryce Danielson are solid players who also are a threat in the passing game. If Hamilton can get those players going next week, that will make this offense even more dynamic.
The Ugly
The biggest difference in this game was Hamilton's two turnovers. The Huskies had two turnovers in the red zone; a fumble at the 4 yard-line and a interception thrown into the end zone. If you take one of those away, Hamilton wins this football game. This is something the Huskies have to clean up heading into next week.
Keep an Eye On
Class of 2022 Hamilton wide receiver Zachary Lewis. As the Huskies await the five games Junior QB Nick Arvay must sit out due to the AIA transfer rules, Brandon Schenks will continue to play QB. This opened playing time at the WR position for Husky players. Freshman Zachary Lewis stepped up big time on Friday Night. The Freshman hauled in 2 clutch receptions; one on a 3rd and long conversion and one that included a touchdown in the 3rd quarter.
Quotable
"I told Marcus (Norvell) I need you to win this for me I need you right now. Sure enough he did, he's clutch like that. He's a great receiver." Jack Miller on the game winner.
"We move forward as a team and we stay focused. This is a great win, we get back in the lab tomorrow and we fix any mistakes we made tonight. We get better at it and we work on our craft." Marcus Norvell.
Looking Ahead
Hamilton (0-1) plays at Highland (1-0) in the Hawks home opener.
Chaparral (1-0) hosts Desert Mountain (1-0) and USC QB commit Kedon Slovis