SOUTH BEND, Ind. – Notre Dame hosted over 50 recruits from all over the country on Saturday for its Elite Skills prospect camp in South Bend.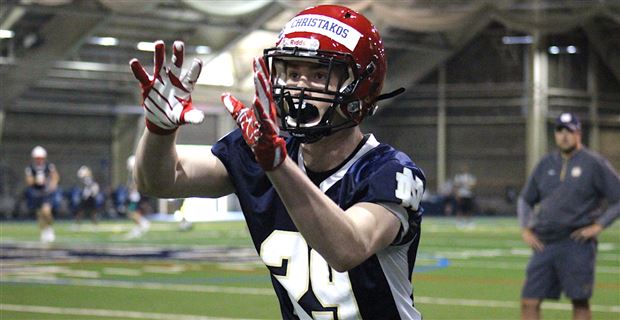 (Photo: Tom Loy, 247Sports)
There was some impressive talent on campus including Port Huron (Mich.) Northern defensive end / linebacker Braiden McGregor, a 6-5, 235-pounder from the 2020 class, with offers from Michigan, Central Michigan, Iowa, Michigan State, Nebraska and others, as well as Bay City (Mich.) Central wide receiver Devell Washington, who has the chance to be a big-time talent in the class of 2020. The 6-4, 200-pounder already has offers from Central Michigan, Eastern Michigan, Toledo and Western Michigan.
However, on Saturday, there was one prospect who left the biggest impression on 247Sports and that was Scottsdale (Ariz.) Chaparral three-star wide receiver Tommy Christakos. The class of 2020 standout is firmly in the discussion as the day's Top Performer.
The 6-4, 190-pounder was outstanding all day long. He was the most impressive during drills, showing soft hands, the ability to run clean routes, and above average speed. Then, during the one on one portion of the event, Christakos took over and made it look too easy. In fact, he took his play up a notch and was unstoppable. He caught everything thrown his way, did a great job of snagging the ball away from his body, got separation from the defenders, and was very precise with his route running.
Looking at his recruitment, it became very clear today why Christakos already has offers from Arizona, Arizona state, Memphis and Northern Arizona. It's also evident why Notre Dame, Cal, North Carolina, Colorado, Louisville, Washington and many others are already showing interest in the impressive wide receiver.
According to a source, Notre Dame could make a big move in this recruitment if the Fighting Irish decide to offer. When looking at fit within the program and university, you won't find too many that mesh well when looking at what Christakos wants in a school and what Notre Dame has to offer. On the field, he was getting a ton of attention from wide receivers coach DelVaughn Alexander while on campus and it's clear that he'll continue to be a target for Notre Dame moving forward. In addition, don't be surprised if some schools look at his as a potential tight end down the road. His hands are outstanding and he looks to have the frame to add weight, while keeping his speed. He'd be a terrific fit under offensive coordinator and tight ends coach Chip Long.
"If Notre Dame were to eventually offer, that would mean the world to me," said Christakos. "Their campus is beautiful and their program is awesome. I hope in the recent future that they offer me.
"The camp was great," he added. "I think, personally, I could have done a little better, but otherwise I enjoyed the camp. Working with coach Alexander was awesome. He is a great coach and really fun to work with."
As a sophomore, Christakos caught 32 passes for 604 yards and eight touchdowns.
Per 247Sports, Christakos is the No. 78 wide receiver in the country and No. 11 prospect in Arizona from the class of 2020